Boss Dean Ryan urged his Dragons to turn pressure into points and look to play smart after defeat in the Guinness PRO14 opener with Munster at a rain-lashed Thomond Park.
Dragons suffered a 39-9 defeat in horrendous conditions in Limerick, with the clinical Irish province claiming a try bonus as they went 18 games undefeated on home soil.
However, Dragons had plenty of opportunities in the home 22 leaving Ryan to ponder what could have been with more cutting edge.
"We got opportunities, but we didn't take them and I have seen enough games at Munster to know that you don't get many opportunities," he said.
"If you don't take them then you are going to spend a long time trying to get back into the game. "In that first half we probably had two or three in the 22 and came away with nothing, Munster came twice and came away with two scores.
"At half-time I felt that we still had enough shape and in at 25-9, we came away with nothing again. From there on the contest was distorted by us chasing it.
"You have got to score from five metres out. That changes the picture and forces teams to do things differently. They didn't have to do anything different except sit and wait and score when their opportunities came.
"You sometimes get taught a lesson by Munster in how to get over from five metres, but we do have to learn to play sides that are more physical than us," he added.
"We are not the biggest side, but we were a smart side today, which gave us a chance. But we've got to work out how we stay in those contests a little bit longer.
"We know where we are. I haven't got a magic wand that will get the power game from somewhere, so we've just got to keep working on being smart and pray for it to be a little bit drier when we come to places like this and see if we can get better."
Next up for Dragons is an away trip to Zebre next Saturday and Ryan is expecting another bruising encounter.
"Zebre will be a pretty physical. They are a big Italian side, so that's a challenge and there isn't a simple answer," he said.
"If it's raining and the pitch is heavy then those are the challenge we have got to work out, because we can't run away from it and go and play a game that only turns up in the sunshine.
"But at the same time we can't blow apart lots of things that I thought were very good against Munster."
Meanwhile, Ryan admitted Dragons would wait for news on injured duo Jack Dixon and Ashton Hewitt who were both forced off.
"Jack looks like an AC joint so we will wait and see and assess what that means," he added.
"Ashton has a pretty bad cut under the nose which is a concern. We will address that over the next few days.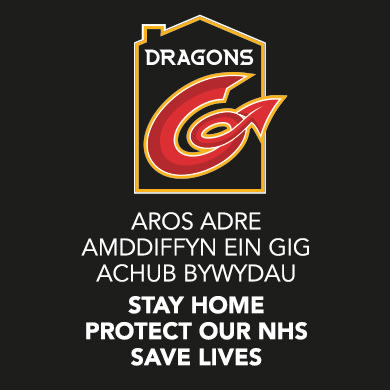 We were a smart side today, which gave us a chance... But we've got to work out how we stay in those contests a little bit longer...